In the back of June Vogue, there were a few featured models (namely Gemma Ward, Hilary Rhonda, Sasha Pivovarova, Raquel Zimmerman, Caroline Trentini and Coca Rocha. But where is Daria??) I really liked the article because they were asked questions about their travels and I thought it was really interesting.

Just a side note, there were a lot of other pictures and everything that were in the article but it would have just taken up wayy to much room in the post. but check them out because they are great pics.



And just to amuse, I thought I'd make one for myself and I included some of my favorite questions. I'm sorry if some of the pictures didn't turn out very well, it's cloudy today and I was trying to take pictures in my room!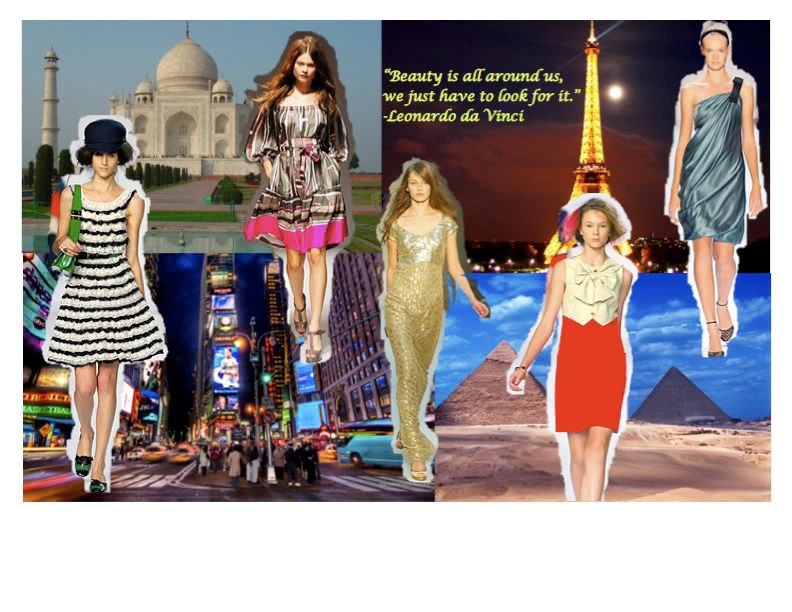 While I'm on the subject of travelling, I was browsing through the May issue of Instyle (one of my favorite magazines) with Jennifer Garner on the cover and I came across this cute short article on carry-ons. It pretty much left me drooling over practically all the bags they featured (I mean give me that black Chanel bag). Well here is the article in case you wanted to read it (if you would like to read the text, just click on it and it'll enlarge itself).



My pick for a carry-on.


Summer Serge Day Bag by Boyy $335
I really like this one because a) you can carry it 2 ways: as a tote bag or as a messenger kind of bag across your chest (which is great when you are wheeling a lot of stuff) b) there is a zipper compartment at the bottom if you want to put your books or magazines in and c) looks very chic (navy + white anyone?).

My pick for a suitcase.



Longchamp 22" Wheelie Suitcase $262 at www.magnums.net
Longchamp makes such nice handbags and suitcases! I love how all their stuff is made from nylon so it is water resistant it also has a ton of pockets!

Anyways, next topic...

So I was thinking about doing a new thing with posts on the weekend. I was going to feature a clothing item, an accessory of some sorts, a shoe and a picture for each week. Here it is. But I kind of need some feedback about whether you like it or not... (and I obviously added a few more things in each category since I may not be able to post in a while)

Week's clothing obsession:


Express Cotton Shorts $40
This are just so crazy cute! The zebra pattern in hot pink is so adorable and the gold detailing on it makes it even better!



Secrets of Charm Ingrid Dress $270



Rugby French Terry 3/4 Sleeve Top by Splendid $104



Lux Indio Embroidered Skirt $58

Week's accessory addiction:


Moyna Clutch $189



Glenda Shimmer Bangle at Urban Outfitters $16



Fulham Lattice Earrings $64

Week's shoe must have:


Shellys London Fiji Thong $40
Remind you of a similar Marc Jacobs line??



Oh Deer! Santorini Flat $125



Faryl Robin Joy $149

Week's best photo:


ah Daria... haha

Week's Best Dressed:


Jessica Alba



Charlize Theron



Hillary Duff



Nicole Richie



Emily Blunt

Finally, last thing I promise. Does anyone else think that the metallic trend for nails is cool? Because I really can't decide... too star trek or neutral and pretty?




OK, so this is going to be my last post for a while (actually precisely about a month) because I am going away to camp for pretty much all of July. So unfortunately, no posting for me and I'm not going to be able to return comments! Sorry that it's been kind of back to back vacations... but I'm not going to leave you guys with nothing to read so hopefully this monstrous post that will last the whole month. Well I hope so at least because I spent a long time on it! Happy July, talk to you in August! (or rather blog with you)




Luvs,
Shopaholic